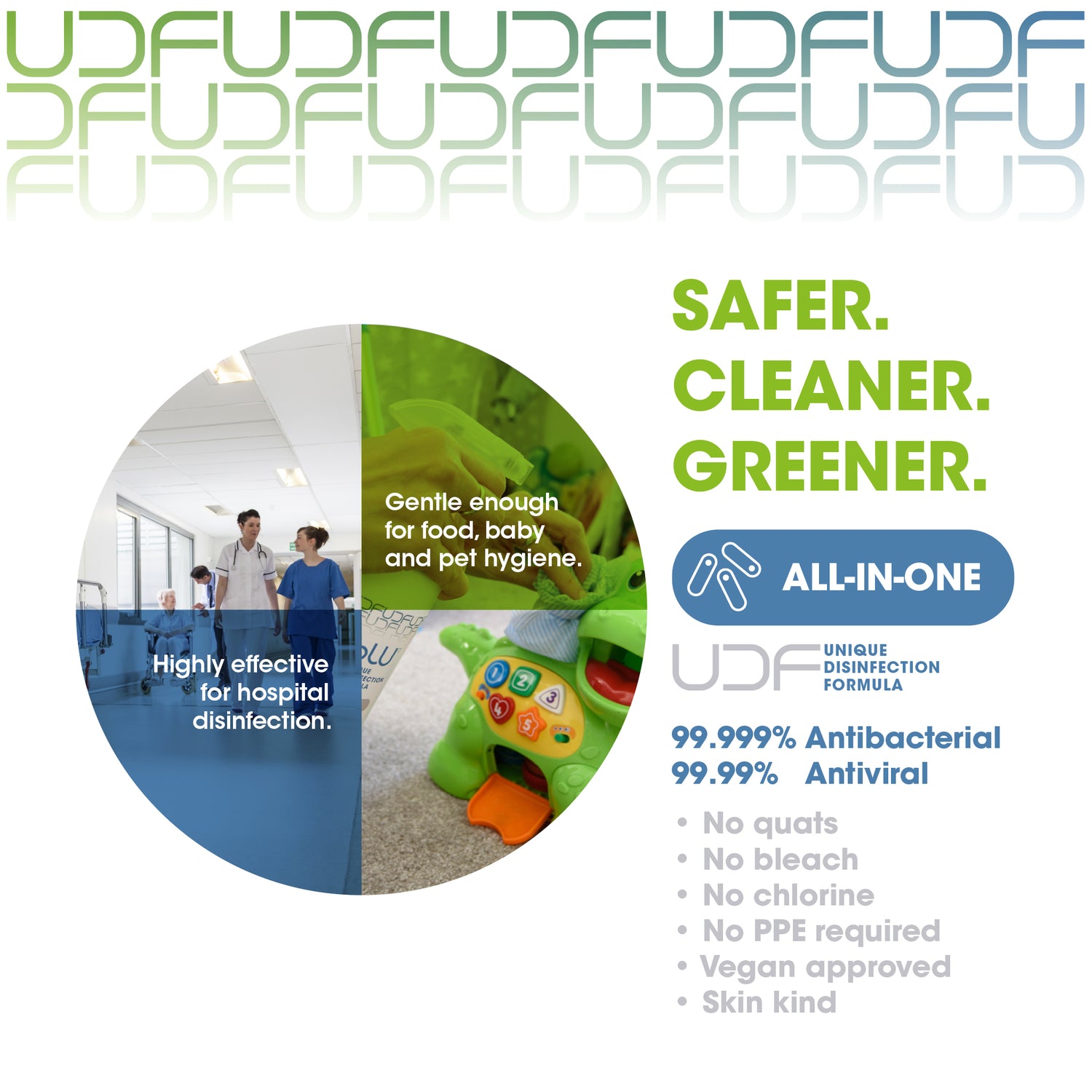 UDF|Unique Disinfection Formula is a revolutionary organic all-in-one biocide ideal for surface, air and instrument disinfection.
Shop all
What Our Customers Say
Kate Knighton - Piano Tutor, May 2022

I have been using MedibLU now for nine months. I'm a music teacher so all students now use MedibLU as a hand sanitiser before their lessons. I use MedibLU to sanitise the instruments and also have put some MedibLU in a misting bottle which I spray into the air. My students love the products as do I. The scent of MedibLU is so fresh and clean and it leaves no sticky residue on the hands. I also use MedibLU in the kitchen to disinfect all worktops and use it on my hard floors etc. I am a pet owner so use MedibLU to disinfect my cat's litter tray and spray onto all her bedding and toys. Another amazing use is to gargle with the product diluted inwater I do this as soon as I have a sore throat. MedibLU is an amazing productI Would not be happy without it!

Nabila Majid - Cat Rescue Volunteer, May 2022

Hi. I just wanted to thank you for making these products. These days with Coronavirus around its so hard to find a disinfectant which is safe to use around my cats. I am a very fearful person when it comes to chemicals as I worry about my cats. So I can't explain how thankful I am for these products. I will now stick to these and buy in the future too. Thank you so so much.
Key Benefits
- All-in-1 action for surface, air and instrument disinfection.
- Highly effective for hospital disinfection yet gentle enough for food, baby and pet hygiene.
- So safe that no hazard warning nor PPE is required.
- Plant based, hospital grade, skin kind and vegan approved.
- Kills 99.999% of bacteria in 1 minute.
- Kills viruses in 2 minutes.
- Up to 24-hour protection.
- Favourable to environmental, human and animal Health.
YOUR HEALTH. OUR PLANET. WE CARE.
UDF Healthcare is a trading name for AmDel Medical Ltd.  As part of the innovative and intrepreneurial James Lyon & Co. Group companies our story
began in Liverpool since 1840.
As a family business we desire to innovate, create change and improve outcomes in human and
animal health whilst protecting the environment.  We take embryonic novel and innovative ideas and turn them into reality using our unique capabilities
and competences to make a difference.
 Our UDF (Unique Disinfection Formula) range is a globally patented plant based
'all-in-one' biocide for high- and low-level surface, air, skin and instrument
disinfection in professional healthcare, home, workplace, food preparation,
animal care and public spaces.
Explore the UDF Range